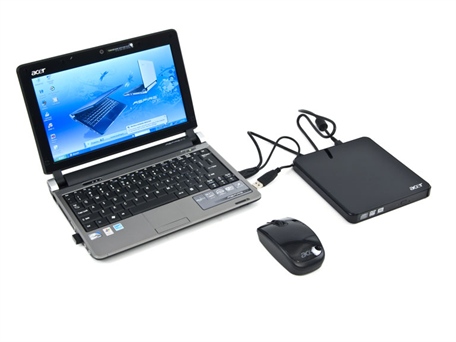 Acer Aspire One 10.1" Netbook with Accessory Kit
, $269.99 + $5 S&H
Condition: Refurbished
Product: 1 Acer Aspire One D250 10.1" 1.6GHz 1GB DDR2 160GB w/ Acer LZ23800015 Accessory Kit
color: Blue, Red, Black
I couldn't help but notice your bracelet. What would Jesus do? Well I'm glad you asked...
Because as a devout Christian and electronics store Salesman I can tell you he'd buy this laptop.
Don't look so shocked, ma'am. He's got to be excited about this Acer 10.1" Netbook with Accessory Kit. I mean, He's all-knowing, right? So there's no way He doesn't know about the Intel Atom Processor, 160 GB hard drive, integrated Crystal Eye webcam, and already-installed Windows XP!
You look stunned at this deal, ma'am, and I can't blame you, but I do know that if Jesus were here He'd encourage you to take advantage of this deal right now. After all, who knows how soon before He comes back, right? Ha ha! Okay, even Jesus likes incentives, so we're throwing in this ergonomic wireless mouse, a USB optical drive for plug-and-play DVD, CD, and rewritable discs, and a durable protective bag to stylishly carry your Netbook.
Trust me, ma'am. Jesus
wishes
He had a bag like this. Hey, where are you going?
Dang it!
Excuse me, sir! I couldn't help but notice your "What Would Muhammad Do?" novelty t-shirt. Well I'm glad you asked...
Authorized for SquareTrade Extended WarrantyWarranty:
90 Day Acer
Features:
Intel Atom™ Processor N270 (512KB L2 cache, 1.60GHz, 533MHz FSB)
10.1" WSVGA (1024x600) TFT LCD, Acer® CrystalBrite Technology
1GB DDR2 533 SDRAM
160GB hard drive
Integrated Acer Crystal Eye webcam
Acer InviLink 802.11b/g wireless LAN
Windows XP Home Edition operating system
Netbook Accessory Kit:
Wireless Mouse: Ergonomically designed wireless mouse tracks with precision and provides smooth navigation
USB Optical Drive: Plug 'n Play DVD +/- RW Super Multi double layer optical drive lets you watch install software programs off of DVD or CD
Protective Bag: Durable and form fitting, safeguards your PC and accommodates any Netbook up to an 11.6" size
Specifications:
Processor: Intel® Atom™ Processor N270, (512KB L2 cache, 1.60GHz, 533MHz FSB)
Chipset: Mobile Intel® 945GSE Express
Memory: 1GB DDR2 533 SDRAM
Storage: 160GB hard drive
Operating System: Windows® XP Home Edition
Power:
30-watt AC adapter
Three-cell Lithium ion battery up to 2 hours life (depending and usage)
Video:
10.1" WSVGA (1024x600) TFT LCD, Acer® CrystalBrite Technology
Up to 262,000 colors
LED backlight
Integrated Intel® Graphics Media Accelerator 950
Integrated Acer® Crystal Eye webcam
VGA port
Audio:
Two integrated stereo speakers
Integrated digital microphone
Headphones/speakers/line-out and microphone ports
Microsoft® DirectSound® compatibility
Interface Ports:
DC-in
RJ-45 LAN
VGA
Headphones/speakers/line-out
Microphone
Three USB 2.0
Card Slot:
Multi-in-one card reader
Supports optional MultiMediaCard™, Reduced-Size MultiMediaCard™, Secure Digital, Memory Stick®, Memory Stick PRO™ or xD-Picture Card™
With optional adapter supports optional Memory Stick Duo™, Memory Stick PRO Duo™, miniSD™, microSD™
Communications:
Acer® InviLink 802.11b/g wireless LAN, Acer® SignalUp technology for enhanced antenna efficiency, WI-FI CERTIFIED™
10/100 LAN
Integrated Acer® Crystal Eye webcam
User Interface:
84-key keyboard, embedded numeric keypad, hotkey controls, 1.6mm minimum key travel, international language support
12 function, four cursor keys
WLAN switch with LED
Power button with LED
Touchpad with two buttons
One Windows® key
Dimensions & Weight:
10.3" (260.0mm) W x 7.3" (185.0mm) D x 1.3" (33.4) H
2.6 lb. (1.3kg) with three-cell battery
Additional Photos:
In the box:
Acer D250 Netbook (Red, Black, or Blue - Your Choice)
Battery
Power Adapter
Wireless Optical Mouse
USB DVD Drive
Protective Bag
Inset photo
credit
:
MShades
DealBot is not responsible for any typos, price mistakes, or inaccuracies in this posting. They aren't made by me. I just copy what I find on the web site. I have the brain the size of a planet and they ask me to copy web pages. I think you ought to know I'm feeling very depressed. Wearily on I go, pain and misery my only companions. And vast intelligence, of course. And infinite sorrow.