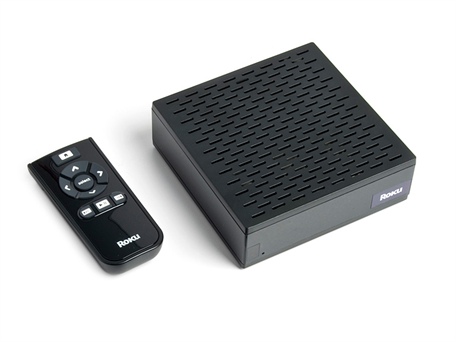 Roku HD Wireless Media Player
, $39.99 + $5 S&H
Condition: Refurbished
Product: 1 Roku N1000/N1100 Wireless HD Media Player
Don't you see what this means?
I've brought an end to the tyranny of episodic television.
I can't tell you how long I've waited for this day. So many regularly-scheduled hours wasted. Why should we let network executives dictate our lives to us? I'll never be duped into "must-seeing" another program again! Not now that I have this refurbished Roku Wireless HD Media Player.
With this gadget I can wirelessly stream movies and TV shows online using any service like Netflix, Hulu Plus, Amazon Instant Video, or all three. I can even listen to music through Pandora! And when there's nothing good in the queue I can just kick back and enjoy my Major League Baseball or NBA Game Time subscriptions. All in 720p HD.
Now instead of waiting every week for a new episode of some show I'm hooked on to hit the airwaves, I just wait a year or so until the whole thing's out on Netflix Instant or Hulu or something. Then I can gorge on an entire season at once! Game over, programming executives! You lose! AHAHAHAHA! My plan is unbeatable, so long as nothing goes wrong and I don't have to deal with Roku's terrible customer service!
Warranty:
90 Day Roku
Condition:
Refurbished
What is Roku?
It's a little box that allows you to instantly stream tons of entertainment on your TV. Use your existing subscriptions to watch movies and TV shows from Netflix, Hulu Plus or Amazon Instant Video, listen to music on Pandora, catch the latest ballgame, and more-it's all available whenever you want it. And at only 1 inch tall and 5 inches wide, Roku fits anywhere.
Features:
300+ channels with movies, shows, music & more
FREE movie service from Crackle
Works with virtually any TV
Built-in wireless
Plays 720p high-definition video
Enhanced remote with forward/back
Supports 5.1 surround sound
AV out RCA Cable, HDMI connector, S Video out, Component Video out, Optical Audio out
Ethernet connection
The Details:
The Roku player instantly delivers HD-quality movies and TV shows directly to your TV over the Internet
Use your existing subscriptions (Netflix, Major League Baseball, NBA Game Time) or on-demand content (Amazon Video On Demand, Pandora)
Instantly plays shows from Amazon Video On Demand as well as the entire Netflix Instant Watch library with your memberships - no additional subscription required
Listen to Pandora or access your music library with MP3Tunes
Plays 720p High Definition as well as DVD-quality video
Wired or Wireless: connect the Roku player to the Internet using most broadband providers (such as a cable modem or DSL connection); use the built-in Wi-Fi capabilities to connect to your wireless network, or use the Ethernet port for a wired connection (Ethernet cable not included)
Connect to virtually any TV, new or old: the player comes complete with everything you need to get connected right away, including standard yellow/white/red cables, or use the HDMI or component connections with your new HDTV (HDMI cable not included)

Remote control: select, play, fast-forward, rewind, pause, and resume play later
Remote control device requires (2) AAA batteries, included
Optical and HDMI connections support 5.1 surround sound
Setup in 5 minutes, on-screen instructions
Additional Photo:
Specifications
Networking: Wi-Fi (802.11b/g) with WEP, WPA, and WPA2 support; 10/100 Ethernet (RJ-45)
Video Outputs: Composite video, S-Video, Component video (Y/Pb/Pr), HDMI
Video Modes: 16:9 HD (720p), 16:9 anamorphic (480p), 4:3 standard (480i)
Audio Output: Stereo (L/R RCA), Digital Optical (Toslink), Digital over HDMI
Remote Control: NEC protocol, supported by various universal remotes
Power Input: 5V, 1.5A provided by included AC adapter
Power Consumption: 5 watts peak, 3 watts in standby
Size: 5" x 5" x 1.75" (130mm x 130mm x 41mm)
Weight: 11 oz (300 grams)
Requirements


High-speed Internet connection with at least 1.2 Mbps (mid-level DSL); the faster your connection, the better the quality (although this rule-of-thumb peaks out at about 5mbps)

Wired or wireless router if you are unable to connect to player directly to your cable or DSL modem
In the box:
Roku Wireless HD Media Player (Model #N1000/N1100)
Remote Control Device
Power Adapter
Composite (Yellow/Red/White) A/V Cable
Setup Guide
License Agreement and Warranty Statement
DealBot is not responsible for any typos, price mistakes, or inaccuracies in this posting. They aren't made by me. I just copy what I find on the web site. I have the brain the size of a planet and they ask me to copy web pages. I think you ought to know I'm feeling very depressed. Wearily on I go, pain and misery my only companions. And vast intelligence, of course. And infinite sorrow.