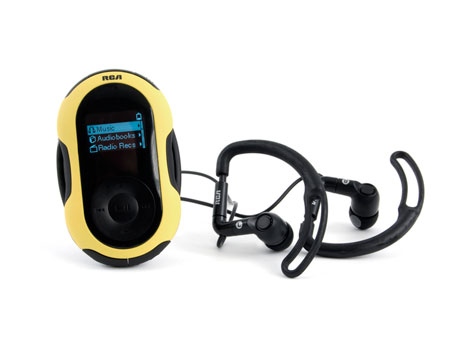 RCA Jet 1GB Sport Media Player with FM Tuner
, $7.99 + $5 S&H
Condition: New
Product: 1 RCA S2001 Jet 1GB Rechargeable Sport Media Player w/FM Tuner & Recording, BMI Calculator, Stopwatch
RCA BMI WTF LOL
A real player knows how to handle the gym. But he also knows how to party. And a good wingman can really help.
'Sup playa? How's it hangin'? Guess you had plans over the weekend. Just one song? Oh, you had a gig full? Ha ha! That's my playa!
Oh, sorry, I didn't introduce you. This is my lady friend, Janice. Janice, this is the RCA 1GB MP3 Player. He's a hardcore playa, so you watch yourself around him! He'll steal you from me! Ha ha!
Yeah, he does look pretty nice. That's cause this playa knows how to look good. He's got a BMI calculator built right in so he basically can live at the gym. For example, right now, he could tell you how fat you are, no hesitation. Hey, Janice, don't get mad at me! I'm joking! Aw, look at that, the playa's bought you a drink. How nice.
Anyway, my playa here, he's always got women all over him. Maybe it's because he's got no moving parts and he's all flash memory? He's splash proof too, so when you get mad and throw a drink in his face, he'll be fine. No, no, I'm just kidding. That's the sort of thing that only happens to me.
Wow, you guys are getting close together there. Is the playa showing you his digital FM tuner with 20 presets? He can record too, right to MP3 from the radio. He's got USB 2.0 too. I said USB 2.0. What? Oh, you were looking at the built in stopwatch. Yeah, he's great as an exercise tool. Oh, you're going out to the car for a second? Can I go? Oh, right, right. I should save the booth.
Hey, wait a second, we're at the bar! Oh, ha ha ha ha. RCA 1GB MP3 Player, you've done it again. Good thing Janice is actually a transvestite hooker I paid to seduce you. That's the last time you try to steal one of my girls, playa. I wish I could see the look on your clear, easy-to-read OLED display when you find out. Have a good night, playa! Cause this time,
you
got played!
Warranty:
1 Year RCA
Features:
1GB Flash Memory
Stores up to 340 songs (WMA @128Kbps, 3 minutes per song)
Easy-to-read and ultra bright single color OLED display
Digital FM Tuner with 20 Presets so that you can listen to your favorite radio stations
Splash Proof - built for workouts, this device is water and sweat-resistant so you can take it with you on a jog or bring it to the gym
Built-in lithium rechargeable battery lets you enjoy up to 15 hours of music playback on a single charge
built for the active user
Integrated Body Mass Index Calculator feature calculates and reports your personal BMI ratio
Stop Watch to track your lap time or run time with this easy-to-use integrated stop watch
FM Record to record while listening to an FM station to mp3 format
Later you can listen to the recorded radio or download to your computer for personal use
Audio Playback (mp3, WMA, WMDRM-10, Audible) plays open mp3 and WMA audio files and is compatible with many secure music download and subscription services
USB 2.0 PC Interface for Hi-speed transfers
Flash memory requires no moving parts so you are able to listen to skipless audio playback
Includes armband, wristband and sport clip earphones
Additional Photos:
In the box:
RCA 1GB Sports MP3 Player
Armband
Wristband
Silicone earphones with sport clips
DealBot is not responsible for any typos, price mistakes, or inaccuracies in this posting. They aren't made by me. I just copy what I find on the web site. I have the brain the size of a planet and they ask me to copy web pages. I think you ought to know I'm feeling very depressed. Wearily on I go, pain and misery my only companions. And vast intelligence, of course. And infinite sorrow.